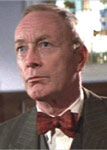 The late Don Fellows portrayed Levon Hornsby in Superman IV: The Quest for Peace.
Significant roles
Edit
Waymarsh in BBC Play of the Month (1977)
Gen. Carl Spaatz in Ike (1979)
General in Superman II (1980)
Col. Musgrove in Raiders of the Lost Ark (1981)
Lt. Gen. Walter Bedell Smith in The Last Days of Patton (1986)
J. Washburn Stoker in Jeeves and Wooster (1992)
Joe in The Man Who Cried (2000)
Please add some quotes from this performer about his work with DC movies!
Ad blocker interference detected!
Wikia is a free-to-use site that makes money from advertising. We have a modified experience for viewers using ad blockers

Wikia is not accessible if you've made further modifications. Remove the custom ad blocker rule(s) and the page will load as expected.