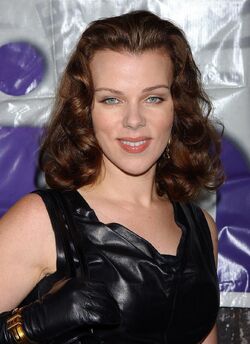 Debi Mazar portrayed Spice in Batman Forever.
Significant roles
Edit
Sandy in Goodfellas (1990)
Whiskey Girl in The Doors (1991)
Gina in Little Man Tate (1991)
Denise Ianello in Civil Wars (1991-1993)
Regina in Beethoven's 2nd (1993)
Denise Ianello in L.A. Law (1993-1994)
Spice in Batman Forever (1995)
Jane in Empire Records (1995)
Crystal in Trees Lounge (1996)
Liz Tricoli in Working (1998-1999)
Debbie De Luca in Insider (1999)
Jackie O'Grady in That's Life (2000-2002)
Steena in The Tuxedo (2002)
Red's Mom in Red Riding Hood (2004)
Shauna in Entourage (2004-2010)
Tanya in The Women (2008)
Gloria Swanson in Return to Babylon (2008)
Please add some quotes from the performer about their work in DC Movies!
Ad blocker interference detected!
Wikia is a free-to-use site that makes money from advertising. We have a modified experience for viewers using ad blockers

Wikia is not accessible if you've made further modifications. Remove the custom ad blocker rule(s) and the page will load as expected.