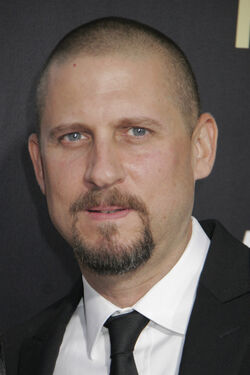 David Ayer is the writer and director of Suicide Squad and will direct the upcoming Gotham City Sirens.
"I made the movie for real people who live in the real world. I made the movie for people who actually love movies and go and see movies. The movie's a lot of fun and the fans are really going to enjoy this."
"This is sort of my personal thing and maybe less about a larger connection. But Joker killed Robin and Batman basically smashes his teeth out and locks him up in Arkham Asylum. It's in the asylum where Joker would have done the 'damaged' tattoo as a message to Batman saying, 'You've damaged me. I was so beautiful before and now you've destroyed my face.' That's where the grill comes from."
Ad blocker interference detected!
Wikia is a free-to-use site that makes money from advertising. We have a modified experience for viewers using ad blockers

Wikia is not accessible if you've made further modifications. Remove the custom ad blocker rule(s) and the page will load as expected.