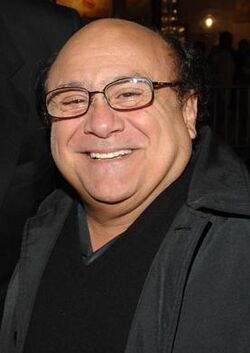 Danny DeVito portrayed Oswald Cobblepot/The Penguin in Batman Returns.
Significant roles
Edit
Louie De Palma in Taxi (1978-1983)
Vernon Dahlart in Terms of Endearment (1983)
Ralph in Romancing the Stone (1984)
Vic De Salvo in The Rating Game (1984)
Burr in Johnny Dangerously (1984)
Ralph in The Jewel of the Nile (1985)
Harry Valentini in Wise Guys (1986)
Sam Stone in Ruthless People (1986)
Ernest Tilley in Tin Men (1987)
Owen in Throw Momma from the Train (1987)
Vincent Benedict in Twins (1988)
Gavin D'Amato in The War of the Roses (1989)
Herb Powell in The Simpsons (1991-1992)
Oswald Cobblepot/The Penguin in Batman Returns (1992)
Bobby Ciaro in Hoffa (1992)
Bill Rago in Reinassance Man (1994)
Dr. Larry Arbogast in Junior (1994)
Martin Weir in Get Shorty (1995)
Harry Wormwood in Matilda (1996)
Rude Gambler in Mars Attacks! (1996)
Sid Hudgens in L.A. Confidential (1997)
Philoctetes in Hercules (1997)
Dr. Horniker in The Virgin Suicides (1999)
Phil Cooper in The Big Kahuna (1999)
George Shapiro in Man on the Moon (1999)
Chief Wyatt Rash in Drowning Mona (2000)
Grover Cleaver in Screwed (2000)
Max Fairbanks in What's the Worst That Could Happen? (2001)
Mickey Bergman in The Heist (2001)
Burke Bennett in Eliminate Smoochy (2002)
Harvey Wexler in Anything Else (2003)
Amos Calloway in Big Fish (2003)
Martin Weir in Be Cool (2005)
Big D in 10 Items or Less (2006)
Buddy Hall in Deck the Halls (2006)
Frank Reynolds in It's Always Sunny in Philadelphia (2006-2010)
Mel in The Good Night (2007)
George Gastner in Nobel Son (2007)
Merl Striker in Just Add Water (2008)
Jimmy Merino in Solitary Man (2009)
"I loved being with Burton on the set. We love hanging out. I love to watch where he's going, what he's trying, all the different things he does."
"Talking about Batman Returns, he's got me in this armadillo suit and I'm in a place that's so freezing — the stage was so cold — I was the only one comfortable. Everyone's walking around in scarves and hats … I'm in pounds of latex or whatever the hell it was. I had a great time with him."
"I've watched the show [Gotham]. I think he's [Rob Lord Taylor] a very good young Penguin. He's a terrific actor."
"I don't know about that [future appearances in the show]. Again, it's all about the schedules and the parts and like how the thing is written and what it would be and there are so many particulars."
Ad blocker interference detected!
Wikia is a free-to-use site that makes money from advertising. We have a modified experience for viewers using ad blockers

Wikia is not accessible if you've made further modifications. Remove the custom ad blocker rule(s) and the page will load as expected.