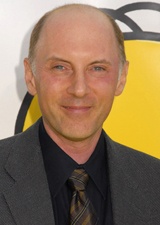 Dan Castellaneta voiced a guard and a Kobra Commando in Batman Beyond: Curse of the Kobra.
Significant roles
Edit
Brian in Nothing in Common (1986)
Homer Simpson (voice) in The Simpsons: Family Portrait (1988)
Homer Simpson and various other voices in The Tracey Ullman Show (1987-1990)
Homer Simpson, Barney Gumble and various other voices in The Simpsons (1989-2011)
Warren Morris in Sibs (1991-1992)
Dr. Emmett Brown (voice) in Back to the Future (1991-1992)
Megavolt and Elmo Sputterspark (voices) in Darkwing Duck (1991-1993)
Mr. Thickley, Dr. Duckbreath and various other voices in Taz-Mania (1991-1995)
Mittens and Bill (voices) in Eek! the Cat (1992-1997)
Narrator (voice) in Super Mario Bros. (1993)
Blue Genie (voice) in The Return of Jafar (1994)
Earthworm Jim, Evil Jim, Grim Reaper and various other voices in Earthworm Jim (1995-1996)
The Zoo Keeper in Friends (1996)
Arnold's Grandpa and various other voices in Hey Arnold! (1996-2004)
Number 1 in Nightmare Ned (1997)
Partlow in My Giant (1998)
Eddie Day in Nash Bridges (1999)
The Robot Devil and Snail (voices) in Futurama (1999-2011)
Guard, Kobra Commando and Mr. Brooks (voices) in Batman Beyond (2000-2001)
Jumba (voice) in Jackie Chan Adventures (2002)
Baxter, Mr. Geminini and various other voices in Kim Possible (2002)
Various voices in Justice League (2003)
Arnold Wesker and Scarface (voices) in The Batman (2004-2008)
Joe Spencer in Stargate SG-1 (2005)
Jim Orr in I-See-You.Com (2006)
Boris, Captain Howdy and Coluans (voices) in Legion of Super Heroes (2006)
Alan Frakesh in The Pursuit of Happyness (2006)
Homer Simpson and various other voices in The Simpsons Movie (2007)
Dr. Milton Hastings in Greek (2007-2011)
Carlson in Superhero Movie (2008)
The Robot Devil (voice) in Futurama: The Beast with a Billion Backs (2008)
Judge Markway in Castle (2009)
Izzy in Super 8 (2011)
Please add some quotes from this performer about their work in DC movies!
Ad blocker interference detected!
Wikia is a free-to-use site that makes money from advertising. We have a modified experience for viewers using ad blockers

Wikia is not accessible if you've made further modifications. Remove the custom ad blocker rule(s) and the page will load as expected.