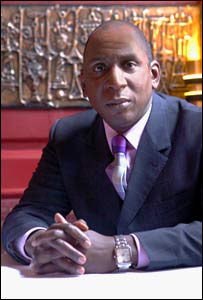 Colin McFarlane portrayed Commissioner Gillian B. Loeb in Batman Begins and The Dark Knight.
Significant roles
Edit
Det. Sgt. Watson in Dempsey and Makepeace (1985)
Goliath in Testament: The Bible in Animation (1996)
Sgt. Slipper in Dennis the Menace (1996-1998)
Fezziwig in Christmas Carol: The Movie (2001)
Newman Mason Allen QC in Judge John Dee (2002-2006)
Gillian B. Loeb in Batman Begins (2005)
Gillian B. Loeb in The Dark Knight (2008)
Ashton in Parents of the Band (2008-2009)
Gen. Pierce in Torchwood (2009)
Bill Jackson in Collision (2009)
Mr. Jordan in Coronation Street (2010)
"Shooting in London was like shooting any other TV series but going to Chicago was awesome. That was when you realise it was Batman, I mean there were four hundred extras, helicopters, men on horseback and Swat teams."
Ad blocker interference detected!
Wikia is a free-to-use site that makes money from advertising. We have a modified experience for viewers using ad blockers

Wikia is not accessible if you've made further modifications. Remove the custom ad blocker rule(s) and the page will load as expected.