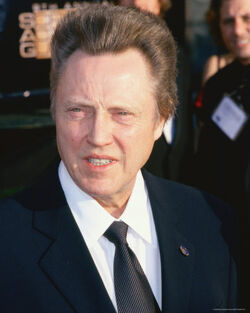 Christopher Walken portrayed Max Shreck in Batman Returns.
Significant roles
Edit
Felton in The Three Musketeeers (1969)
Det. Rizzo in Sentinel (1977)
Duane Hall in Annie Hall (1977)
Russel the Hustle in Roseland (1977)
Nick in The Deer Hunter (1978)
Eckart in Last Embrace (1979)
Nathan D. Champion in Heaven's Gate (1980)
Jamie Shannon in The Dogs of War (1980)
Tom in Pennies from Heaven (1981)
Johnny Smith in The Dead Zone (1983)
Max Zorin in 007: A View to a Kill (1985)
Brad Whitewood Sr. in At Close Range (1986)
Kyril Montana in The Milagro Beanfield War (1988)
Sgt. Toomey in Biloxi Blues (1988)
Wesley Pendergrass in Homeboy (1988)
Whitley Strieber in Communion (1989)
Frank White in King of New York (1990)
McBain in McBain (1991)
Max Shreck in Batman Returns (1992)
Henry in Loaded Weapon 1 (1993)
Jack Shanks in Scam (1993)
Vincenzo Coccotti in True Romance (1993)
Bobby Cahn in Wayne's World 2 (1993)
Captain Koons in Pulp Fiction (1994)
Peina in The Addiction (1995)
Gabriel in The Prophecy (1995)
Bruno Buckingham in Wild Side (1995)
Kim Ulander in Search and Destroy (1995)
Mr. Smith in Nick of Time (1995)
The Interviewer in Basquiat (1996)
Hickey in Last Mand Standing (1996)
Ray in Excess Baggage (1997)
Carlo Bartolucci/Charlie Barrett in Suicide Kings (1997)
Gabriel in The Prophecy II (1998)
Fox in New Rose Hotel (1998)
Uncle Bill Ferriter in Trance (1998)
Colonel Cutter in AntZ (1998)
Calvin in Blast from the Past (1999)
James Houston in Vendetta (1999)
Hessian Horseman in Sleepy Hollow (1999)
Max in Kiss Toledo Goodbye (1999)
Gabriel in The Prophecy 3: The Ascent (2000)
Victor "Vic" Kelly in The Opportunists (2001)
Lt. McDuff in Scotland, Pa. (2001)
Clem in Joe Dirt (2001)
Hal Weidmann in America's Sweethearts (2001)
Count Cagliostro in The Affair of the Necklace (2001)
Mike in Poolhall Junkies (2002)
Reed Thimple in The Country Bears (2002)
Frank Featherbed in Plots with a View (2002)
Frank Abagnale in Catch Me If You Can (2002)
Marcus Portius Cato in Julius Caesar (2002)
Salvatore "Sal" Maggio in Kangaroo Jack (2003)
Det. Stanley Jacobellis in Tough Love (2003)
Hatcher in The Rundown (2003)
Rayburn in Man on Fire (2004)
J-Man in Envy (2004)
Mike Wellington in The Stepford Wives (2004)
Turner Lair in Aroung the Bend (2004)
Cousin Bo in Romance & Cigarettes (2005)
Mark Heiss in Domino (2005)
Morty in Clic (2006)
Pete Brewster in Fade to Black (2006)
Jack Menken in Man of the Year (2006)
Wilbur Turnblad in Hairspray (2007)
Feng in Balls of Fury (2007)
Roy Callahan in Life's a Beach (2010)
Shondor Birns in Kill the Irishman (2011)
Raven in Evil Calls (2011)
The Boss in A Girl and a Gun (2012)
Please add some quotes from this performer about his work with DC movies!