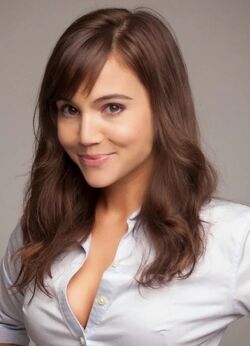 Christina Wren portrayed Carrie Farris in Man of Steel and Batman v Superman: Dawn of Justice.
Significant roles
Edit
Marie Hayes in Wrong Turn (2010)
Brenda in Coffeeshop Philosophers (2010)
Cathy in Ship Wrecked Cove (2010)
Sophia in Saudade? (2011)
Frieda Goren in Static Shock Blackout (2012)
Lucy in Allo (2013)
Capitan Ferris in Man of Steel (2013)
Lori in Moon and Sun (2014)
"Yes! Yes! Like, absolutely! I mean, super-huge fan. Would die to be a superhero. My whole childhood growing up, I wanted to be a superhero and we didn't really have the female superheroes who were in the limelight at the time….To get to grow up and do that would be really a dream come true, but I'm waiting as much as anyone else."
Ad blocker interference detected!
Wikia is a free-to-use site that makes money from advertising. We have a modified experience for viewers using ad blockers

Wikia is not accessible if you've made further modifications. Remove the custom ad blocker rule(s) and the page will load as expected.