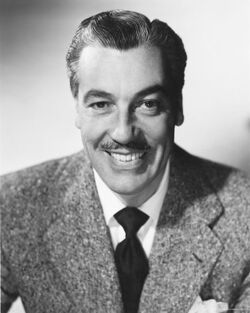 The late Cesar Romero portrayed The Joker in Batman.
Significant roles
Edit
Hugo in Wife, Husband and Friend (1939)
Ram Dass in The Little Princess (1939)
John "Doc" Halliday in Frontier Marshal (1939)
Cisco Kid in The Cisco Kid and the Lady (1939)
Cisco Kid in Viva Cisco Kid (1940)
Cisco Kid in Lucky Cisco Kid (1940)
Cisco Kid in The Gay Caballero (1940)
Cisco Kid in Romance of the Rio Grande (1941)
Cisco Kid in Ride on Vaguero (1941)
Hernando Cortez in Captain from Castile (1947)
Marquis Henri de Labordere in Vera Cruz (1954)
Steve McQuinn in Passport to Danger (1954-1958)
Esteban de la Cruz in Zorro (1959)
Duke Santos in Ocean's Eleven (1960)
Lorenzo Cestari in 77 Sunset Strip (1963)
Lucky Luciano in A House Is Not a Home (1964)
The Joker in Batman (1966-1968)
Mike Madigan in Un dollaro per 7 vigliacchi (1968)
A. J. Arno in The Computer Wore Tennis Shoes (1969)
Bunny in Julia (1970)
A. J. Arno in Now You See Him, Now You Don't (1972)
A. J. Arno in The Strongest Man in the World (1975)
Peter Stavros in Falcon Crest (1985-1988)
Please add some quotes from this performer about their work in DC movies!
External links
Edit
Ad blocker interference detected!
Wikia is a free-to-use site that makes money from advertising. We have a modified experience for viewers using ad blockers

Wikia is not accessible if you've made further modifications. Remove the custom ad blocker rule(s) and the page will load as expected.