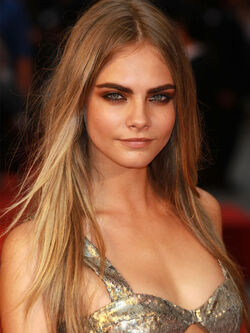 Cara Delevingne portrayed June Moone/Enchantress in Suicide Squad.
Significant roles
Edit
Princess Sorokina in Anna Karenina (2012)
Melanie in The Face of an Angel (2014)
Kath Talents in London Fields (2015)
Margo Roth Spiegelman in Paper Towns (2015)
"It's f–king insane. I'm not the biggest fan of superhero films. There are so f–king many. I love the Batmans but some of them I'm not that keen on. I've never been so excited to see a film and I'm actually in it. I wish I could tell you about it at all. The movie is going to be the best thing in the world. The camaraderie on set is insane."
"I was like, 'Honestly, if I go outside and punch people, you've got to come get me out of jail because I am so furious'. he sparked a f-cking fury in me."
"It is going to be freakin' awesome! I kill people with my bare hands!"
"June is an adventure seeker who's always wanted some excitement. And she gets what she wished for, but in a terrible way. At the start of the movie she discovers a cavern and finds...something...within."
"She's an ancient sorceress. A feral being. She's been trapped for so long and now she's finally let out."
"I'd gather the accent, which is deeper and posher than June's. And I'd last Nick Cave's Red Right Hand, that song about the devil. Also a lot of Megadeth. Just evil stuff."
"I met the director, David Ayer, at a hotel in London on a dark and stormy night. He didn't tell me anything about the movie. Instead, he showed me pictures of these amazing, enlightened, powerful, but very evil women. He spoke to me about addiction and mental illness, which are things I find very, very interesting. The next time I met David was at his house in L.A. He asked me to read a scene from Who's Afraid of Virginia Woolf?. I love that play and had acted in it at school when I was 17, so I was excited. Somehow, when we were doing the scene, I became livid. I hadn't felt rage like that in years. And then I got the part! There still wasn't a script, but David asked me to go and try and find a forest and, if it was a full moon, get naked and walk through the woods with my feet in the mud, which I did. There wasn't a full moon, but I howled like a wolf. It would have been really funny if someone had seen me."
"The critics have been absolutely horrific, they're really, really horrible. You know, I just don't think they like superhero movies. It doesn't really matter what the critics say at the end of the day. It's the fans that we made this movie for."
Ad blocker interference detected!
Wikia is a free-to-use site that makes money from advertising. We have a modified experience for viewers using ad blockers

Wikia is not accessible if you've made further modifications. Remove the custom ad blocker rule(s) and the page will load as expected.