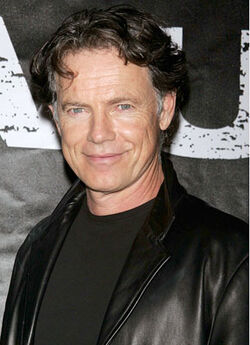 Bruce Greenwood voiced Bruce Wayne/Batman in Batman: Under the Red Hood. He once again voiced Batman in the TV series Young Justice.
Significant roles
Edit
Bob Grangerford in Bob Grangerford (1980)
Jeff Boder in Deadly Nightmares (1983)
Jack Gage in Legmen (1984)
Det. Roy Moss in Jessie (1984)
Jeff Storey and Sam Hayes in Danger Bay (1986)
Dr. Seth Griffin in St. Elsewhere (1986-1988)
Mitchell Gordon in Matlock (1987)
Agent Jerry Dove in In the Line of Duty: The F.B.I. Murders (1988)
Jerome McFarland in Wild Orchid (1989)
Dennis Wilson in Summer Dreams: The Story of the Beach Boys (1990)
Charlie Harrison in Servants of Twilight (1991)
Pierce Lawton in Knots Landing (1991-1992)
Stuart Ramsey in Passenger 57 (1992)
Jervis Walker in Rio Diable (1993)
Nick Terrio in Adrift (1993)
Francis Brown in Exotica (1994)
Dave Logan in Hardball (1994)
Larry Strickland in Naomi & Wynonna: Love Can Build a Bridge (1995)
Casey Nelson in Dazzle (1995)
Andy Douglas in Mixed Blessings (1995)
Thomas Veil in Nowhere Man (1995-1996)
Don Shaw in Tell Me No Secrets (1997)
Bob Andrews in Fathers' Day (1997)
Billy in The Sweet Hereafter (1997)
Dr. Nathan Bradford in Sleepwalkers (1997-1998)
Dr. Edgar Caldicott in Disturbing Behaviour (1998)
Bo in The Last Bandit (1999)
Friedman in The Lost Son (1999)
Jack in Cord (2000)
John F. Kennedy in Thirteen Days (2000)
Myles Billingsley in Haven (2001)
Tony in Swept Away (2002)
Lt. Bennie Macko in Hollywood Homicide (2003)
Lawrence Robertson in I, Robot (2004)
Sean Campbell in Mee-Shee: The Water Giant (2005)
Jack Dunphy in Capote (2005)
Jerry in The World's Fastest Indian (2005)
Davis McClaren in Eight Below (2006)
Chiron Star in Class of Titans (2006)
Mitch Yost in John from Cincinnati (2007)
Pike in Star Trek (2009)
Bruce Wayne/Batman in Batman: Under the Red Hood (2010)
Bruce Wayne/Batman in Young Justice (2010-????)
Pike in Star Trek Into Darkness (2013)
Please add some quotes from this performer about their work in DC movies!
External Links
Edit
Ad blocker interference detected!
Wikia is a free-to-use site that makes money from advertising. We have a modified experience for viewers using ad blockers

Wikia is not accessible if you've made further modifications. Remove the custom ad blocker rule(s) and the page will load as expected.