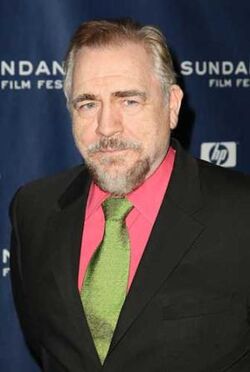 Brian Cox portrayed Ivan Simanov in RED and RED 2.
Significant roles
Edit
Trotsky in Nicholas and Alexandra (1971)
Victor Hugo in Ego Hugo (1973)
Burgundy in King Lear (1983)
Father Gòra in Pope John Paul II (1984)
Hannibal Lecktor in Manhunter (1986)
Voronov in Murder on the Moon (1989)
The Director in Six Characters in Search of an Author (1992)
Argyle Wallace in Braveheart (1995)
Dr. Nelson Guggenheim in Rushmore (1998)
Dr. Morel in The Invention of Dr. Morel (2000)
Captain O'Hagan in Super Troopers (2001)
Jim Morris Sr. in The Rookie (2002)
Richard Morgan in The Ring (2002)
Ward Abbott in The Bourne Identity (2002)
James Brogan in 25th Hour (2002)
William Stryker in X2: X-Men United (2003)
Ward Abbott in The Bourne Supremacy (2004)
Agamemnon in Troy (2004)
Alec Hewett in Match Point (2005)
Melvin Belli in Zodiac (2007)
John Landon in Rise of the Planet of the Apes (2011)
Please add some quotes from this performer about their work on DC movies!
External links
Edit
Ad blocker interference detected!
Wikia is a free-to-use site that makes money from advertising. We have a modified experience for viewers using ad blockers

Wikia is not accessible if you've made further modifications. Remove the custom ad blocker rule(s) and the page will load as expected.