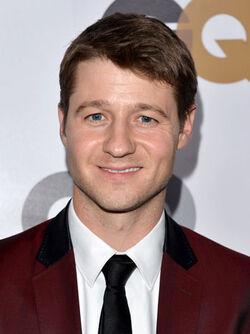 Ben McKenzie voices Bruce Wayne/Batman in Batman: Year One. McKenzie also portrayed James Gordon in the TV series Gotham.
Significant roles
Edit
Ryan Atwood in The O.C. (2003-2007)
Ryan Atwood in MADtv (2004)
Johnny in Junebug (2005)
Mike Stempt in 88 Minutes (2007)
Joe Bonham in Johnny Got His Gun (2008)
John Keller in Eight Percent (2009)
Officer Ben Sherman in Southland (2009-2013)
Bruce Wayne/Batman in Batman: Year One (2011)
Michael in Adventure in the Sin Bin (2012)
Tom in Decoding Annie Parker (2013)
"He's a truly honest man. The last honest man in a city full of crooked people. It's very tricky nowadays to play a true, honest-to-goodness hero. Everybody is so cynical of people's intentions. What's interesting about him is he comes into this city that he hasn't lived in for two decades, since he was a kid, and has fresh eyes to a world he doesn't actually know. He thinks he knows it, and his journey will be to figure out how to make it better both for Gotham and himself without completely [losing] the moral standing that he has. He's not an anti-hero, he's a true hero — but he will have to compromise."
"I would say that there's always pressure when you're dealing with a world that is so beloved by the fans of that world. Batman has got to be the deepest and broadest fan base in the entire world, I would think. They care deeply about it, and the responsibility you have as a creative entity within this thing to try to do it well enough to where they don't hate you. But not having Batman I feel is kind of freeing. We've seen Bruce at 12, but we usually just use that as the backstory and then jump forward. So the fact that we sit there in the present and watch this young man try to understand what his future will be, because he is presented with both alternatives, is a special thing. Alfred and I will battle over his soul, effectively."
"He's like, 'These feelings that you want to push aside are what keep us human and keep us honest.' After all, that's what true heroism is, right? True heroism is not saying, 'I'm going to take a pill that keeps me from feeling fear and plunge into battle.' I need to feel this fear and overcome it for the sake of a larger good. Those are the sorts of things we'll address on this show."
Ad blocker interference detected!
Wikia is a free-to-use site that makes money from advertising. We have a modified experience for viewers using ad blockers

Wikia is not accessible if you've made further modifications. Remove the custom ad blocker rule(s) and the page will load as expected.