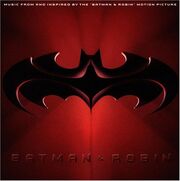 Batman & Robin is the soundtrack to the film of the same name.
Track list
Edit
"The End Is the Beginning Is the End" by The Smashing Pumpkins – 5:02
"Look into My Eyes" by Bone Thugs-n-Harmony – 4:28
"Gotham City" by R. Kelly – 4:56
"House on Fire" by Arkarna – 3:24
"Revolution" by R.E.M. – 3:04
"Foolish Games" by Jewel – 4:00
"Lazy Eye" by Goo Goo Dolls – 3:46
"Breed" by Lauren Christy – 3:05
"The Bug" by Soul Coughing – 3:09
"Fun for Me" by Moloko – 5:08
"Poison Ivy" by Meshell Ndegeocello – 3:33
"True to Myself" by Eric Benét – 4:41
"A Batman Overture" by Elliot Goldenthal – 3:35
"Moaner" by Underworld – 10:17
"The Beginning Is the End Is the Beginning" by The Smashing Pumpkins – 4:58
Ad blocker interference detected!
Wikia is a free-to-use site that makes money from advertising. We have a modified experience for viewers using ad blockers

Wikia is not accessible if you've made further modifications. Remove the custom ad blocker rule(s) and the page will load as expected.