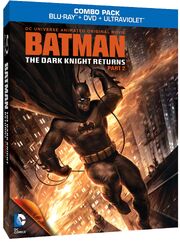 Batman: The Dark Knight Returns Part 2 was released by Warner Home Video as a Blu-ray Combo Pack and DVD, On Demand and for Download on March 12, 2013. The Blu-ray Combo Pack will include UltraViolet.
Combo Pack
Edit
The DVD/Blu-ray/Ultraviolet combo pack will include 2 hours of content, including:
Standard and high definition versions of the feature film in UltraViolet and Blu-ray.
Sneak Peak at Superman: Unbound, the next DC Universe Animated Original Movie.
From Sketch to Screen: Exploring the Adaptation Process (HD, 44 minutes): Director Jay Oliva provides a commentary for Part 2 by way of this extensive, smartly compiled and edited production documentary, complete with panel-to-screen comparisons, character design and concept artwork, and a dissection of some of the differences between the last two issues of "The Dark Knight Returns" and its animated adaptation. More of a Maximum Movie Mode-esque feature (as opposed to a straight audio commentary or behind-the-scenes documentary), despite being a standalone extra rather than a running PiP commentary, "From Sketch to Screen" offers crystal clear insight into Oliva's approach to the second half of Miller's epic.
Superman vs. Batman: When Heroes Collide (HD, 9 minutes): "Who would win in a fight between Superman and Batman?" *A look at the complex roles Superman and Batman play in Miller's "Dark Knight Returns," the ways in which their individual evolutions as characters and icons affect those roles, and Miller's intention with his Superman/Batman showdown, the portrayal of the government as an illegitimate authority, and more.
The Joker: Laughing in the Face of Death (HD, 14 minutes): The Joker, his induction into the Gotham Universe as twisted trickster, his murderous schemes and sprees over the years, and his mad resurrection and fall in Miller's "Dark Knight Returns."
Additional Episodes: From the DC Comics Vault (SD, 68 minutes): "The Last Laugh" from Batman: The Animated Series, "The Man Who Killed Batman" from Batman: The Animated Series, and "Battle of the Superheroes!" from Batman: The Brave and the Bold.
Sneak Peek: The Dark Knight Returns, Part 1 (HD, 10 minutes): An extended promo for Part 1.
Digital Comic Excerpt (HD): A much too short 4-page excerpt from the second half of Miller's Returns.
Theatrical Trailer (HD, 3 minutes): The Hobbit: An Unexpected Journey
Ad blocker interference detected!
Wikia is a free-to-use site that makes money from advertising. We have a modified experience for viewers using ad blockers

Wikia is not accessible if you've made further modifications. Remove the custom ad blocker rule(s) and the page will load as expected.