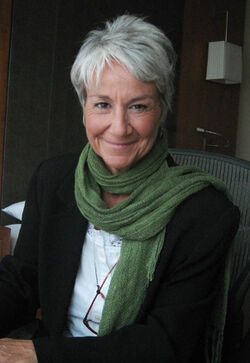 Andrea Romano voiced Joker Junior in Batman Beyond: Return of the Joker, Dispatcher and Martha Wayne in Batman: Gotham Knight, Giganta in Superman/Batman: Public Enemies, Watchtower Computer and Reporter in Justice League: Crisis on Two Earths, Reporter #1 in Batman: Under the Red Hood, Stompa and Vicki Vale in Superman/Batman: Apocalypse, Green Lantern Power Ring in Green Lantern: Emerald Knights, Obstetrician in Batman: Year One, the Batcomputer in Justice League: Doom, Green Lantern's Ring in Justice League: War, Suit #2 in Son of Batman, Jill and Batcomputer in Batman vs. Robin and Jean Palmer in Justice League: Gods and Monsters.
Significant roles
Edit
Please add a list of Andrea Romano's significant roles!
Please add some quotes from this performer about their work in DC movies!
Ad blocker interference detected!
Wikia is a free-to-use site that makes money from advertising. We have a modified experience for viewers using ad blockers

Wikia is not accessible if you've made further modifications. Remove the custom ad blocker rule(s) and the page will load as expected.