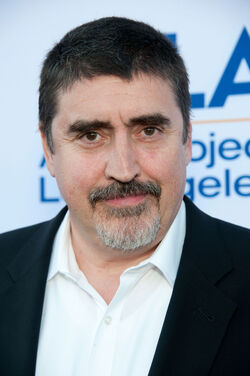 Alfred Molina voiced Ares in Wonder Woman, Lex Luthor and Firestorm in Robot Chicken DC Comics Special and Destiny in Justice League Dark.
Significant roles
Edit
Satipo in Raiders of the Lost Ark (1981)
Kenneth Halliwell in Prick Up Your Ears (1987)
Marshal Guarnaccia in The Marshal (1993)
Titorelli in The Trial (1993)
Dr. Stephen Arden in Species (1995)
Levin in Anna Karenina (1997)
Rahad Jackson in Boogie Nights (1997)
Snidely Whiplash in Dudley Do-Right (1999)
Solomon Solomon in Magnolia (1999)
Hercule Poirot in Murder on the Orient Epress (2001)
Diego Rivera in Frida (2002)
Dr. Malick in Identity (2003)
John Tetzel in Luther (2003)
Dr. Otto Octavius/Doctor Octopus in Spider-man 2 (2004)
Victor Hugo Puente in Crònicas (2004)
Bishop Manuel Aringarosa in The Da Vinci Code (2006)
Touchstone in As You Like It (2006)
Dick Suskind in The Hoax (2006)
Baldabiou in Silk (2007)
Edy Rodriguez in Nothing Like the Holidays (2008)
Jack in An Education (2009)
Sheik Amar in Prince of Persia: The Sands of Time (2010)
Please add some quotes from this performer about their work in DC movies!
Ad blocker interference detected!
Wikia is a free-to-use site that makes money from advertising. We have a modified experience for viewers using ad blockers

Wikia is not accessible if you've made further modifications. Remove the custom ad blocker rule(s) and the page will load as expected.