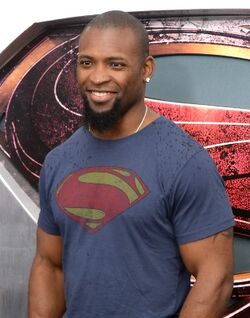 Ahman Green will appear in Batman v Superman: Dawn of Justice.
Significant roles
Edit
"If you go to IMDb.com right now I am on the cast list. So I think I'm more than an extra. That was just a dream come true, a great opportunity that Zack Snyder and their casting director gave me to be on set."
"I just kept sending him messages and calling him and just kind of reminding him, because he's a big-time movie director. He's a guy that can forget things and it won't be his fault, because he has a thousand things going on every day. So I just stayed consistent with contacting him and finally I got a call from Warner Bros. Studios setting up flights. ... It was just like 'Yes, here we go!'"
Ad blocker interference detected!
Wikia is a free-to-use site that makes money from advertising. We have a modified experience for viewers using ad blockers

Wikia is not accessible if you've made further modifications. Remove the custom ad blocker rule(s) and the page will load as expected.